Behavior Coach
Phoenix, AZ
Part Time to Full Time
Mid Level
Arizona Autism United (AZA United) is a leading nonprofit service organization for children and families affected by autism in and around Maricopa County. We provide a wide range of supports and therapies and are currently expanding locations and programs across the Valley. We are growing and this is an exciting time to join the team, with many opportunities for future career growth! To learn more about why great people choose to work at AZA United, please visit: https://www.azaunited.org/whyaza.
We are seeking compassionate Clinical Technicians (Behavior Coaches) to administer a variety of behavioral intervention and skill-teaching strategies in order to support children and adults with developmental disabilities and high needs behavior. Technicians provide one-on-one support in home, school, and/or community settings. This is typically a part-time role with variable hours; although depending on your schedule and client availability in your area, it could offer additional hours over time. The starting pay range is $20.00-24.00 per hour (depending on experience), as well as a special $4.00 an hour bonus for all work conducted in 2022. 
Regular job duties will Include:
Provide one-on-one behavioral intervention in accordance with the treatment plan and any behavior intervention plans

Safely and appropriately manage challenging behaviors which may require kneeling, squatting, restraining, lifting, holding, etc.

Provide services for extended periods of time in challenging environments

Document information related to all services delivered. This includes data collection, progress reporting, daily activity notes, and other general record keeping as directed.

Participate in initial and ongoing training and/or shadowing from supervisors, parents, and other therapy team members.

Collaborate and communicate regularly with supervisors, therapy team members, and families/caregivers.

Participate in case review meetings and team meetings as directed.
Experience & Qualifications:
Knowledge of and experience with behavioral interventions for children with Autism

Must have either H.S. Diploma or GED; and two years of behavior health or related experience or Associate's degree or equivalent, and at least one year of behavioral health or related work experience 

Be able to assume a variety of postures (kneeling, squatting, crouching, sitting, standing, etc.) throughout the course of each day and provide physical support to client as needed

Must be at least 21 years of age

Ability to provide your own transportation to client homes and other service locations throughout Maricopa County

Be willing to attain or have a current certification for Prevention & Support training (formerly known as CIT - Client Intervention Training 1 & 2), or similar training (e.g., Crisis Prevention Institute - CPI)

Be willing to attain or have CPR & First Aid Certification 

Ability to maintain a flexible schedule 

Very strong communication skills: interpersonal, oral and written

Ability to multi-task, independently plan, and organize your own activities 

Experience using Microsoft Office products (Word, Excel, etc.) 

Must be able to successfully pass a fingerprint clearance check, a tuberculosis screening, and other related hiring requirements
Benefits:
Join an organization with a great culture and supportive leadership that believes in work/life balance. AZA United is a 2021 Arizona Top Workplace winner because we provide a collaborative work environment focused on transparent communication, teamwork, and professional growth! In addition, you will receive the following benefits: 
A competitive salary with guaranteed pay increases every 6 months 

Student Loan Forgiveness: As a non-profit organization, your employment (when consistently working at least 30 hours a week) meets requirements under the Public Service Loan Forgiveness program (for student loan forgiveness). For more information you can visit https://studentaid.gov/manage-loans/forgiveness-cancellation/public-service

A 401K plan with up to 4% match after one year of service

Paid drive time

Paid trainings and certifications

Eligibility for medical, dental, and vision upon 6 months of working an average of 30 hours/week
Autism knows no race, religion, gender, or identity.  We need and value diversity and inclusion in our workforce in order to fully support our families.  AZA United welcomes applicants of any race, age, religion, gender, identity or any other aspect which makes you unique.
To learn more about AZA United, visit our website or check out our Glassdoor page. https://azaunited.org/jobs-careers/why-work-for-aza-united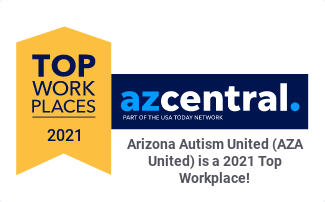 Apply for this position
Required*