Staffing Coordinator
Phoenix, AZ
Full Time
Mid Level
This is a great opportunity to join a 2021 Arizona Top Workplace non-profit organization, that truly cares about people, and offers great professional development and internal job growth! Do you want to know you're making a difference in people's lives? It's an exciting time to join our team as we add more community-based programs, open two new clinics, and expand to other areas of the state in 2022. To learn more about why great people choose to work at AZA United, please visit: https://www.azaunited.org/whyaza.
We are currently looking for a full-time Staffing Coordinator for our Direct Support Services Department. The starting range for this role is $19.00-24.00 an hour plus a full benefits package. This might be a perfect fit for you if you enjoy communicating with and assisting field based job candidates, being responsible for detail-oriented administrative work, AND:
consider yourself flexible and able to adapt to changing processes, job duties, and systems;
are able to work independently and while being a part of a highly collaborative and supportive team environment;
place a high value on learning and growing;
want a hybrid role that allows at least 75% remote work; and
are looking for a place to stay and grow a career!
Regular Job Duties:
Manage the recruitment process for direct support service candidates by reviewing and scoring applications, conducting zoom interviews as needed, and moving selected candidates through the initial hiring process (via our applicant tracking system)
Collaborate with other departments to help develop and launch marketing and branding programs to increase job visibility
Upon candidate hire, review relevant systems and trackers to determine potential best match with a client family (in-home services)
Communicate with families about matching process and gather information to determine best match based on scheduling, location, etc.
Assign new match to Field Staff and assist with ongoing questions and systems training as needed
Experience & Qualifications:
G.E.D. or HS Diploma required; college degree or professional business related certification a plus
At least 2 years of experience in relevant positions that required excellent communication skills, a very high attention to detail and strong organizational skills. Experience with healthcare or human services, particularly ABA treatment programs, a plus.
Strong familiarity with Microsoft products (Word, Excel, Outlook, Teams) and experience working in multiple online systems
Experience in a role that required a high degree of confidentiality
Bi-lingual a plus but not required
Must be able to obtain an AZ Fingerprint Clearance Card
Perks Include:
We provide a collaborative work environment focused on transparent communication, teamwork and professional growth! In addition to a job that offers some flexibility and work/life balance, you will receive these benefits:
A competitive salary with guaranteed pay increases every 6 months
Opportunity to work remotely at least 3 or more days a week
An excellent comprehensive health benefits package that includes health, dental and vision, employer contributions to your health savings account, company paid Short-Term/Long-Term Disability, and employer-paid basic life insurance
A 401K plan with up to 4% match after one year of service
Generous paid sick time and PTO, and 12 Paid Holidays
Student Loan Forgiveness: As a non-profit organization, your employment (when consistently working at least 30 hours a week) meets requirements under the Public Service Loan Forgiveness program (for student loan forgiveness). For more information you can visit https://studentaid.gov/manage-loans/forgiveness-cancellation/public-service
Paid Maternity/Paternity Leave
Join our fantastic team and help us keep the motor running behind the scenes, so we can help as many kids with autism as possible! For more information about AZA United please visit our website at www.AZAunited.org or view our profile on Glassdoor. We look forward to meeting you soon!
Autism knows no race, religion, gender, or identity. We need and value diversity and inclusion in our workforce in order to fully support our families. AZA welcomes applicants of any race, age, religion, gender, identity or any other aspect which makes you unique.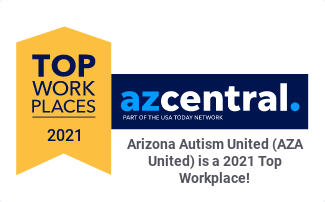 Apply for this position
Required*